Do you enjoy a good whodunnit? Do you love solving games and puzzles? Do you get lost in a great mystery book or movie? Do you live for game night? If you answered "yes" to any of these, you are in the right place...
How it works
0

Choose a Month-to-Month or Season Pass plan.

0

Receive your mesmerizing murder mystery game in the mail.

0

Invite your friends and family to play and have fun!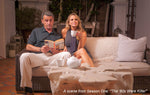 SEASON SUBSCRIPTION
ONE NEW EPISODE EACH MONTH!
Each season contains five episodes, each one delivered to your door monthly. Over the course of the season you will be introduced to the characters, review evidence and decipher clues that will lead you to solve the mystery. Get ready to be immersed into a thrilling story and remember....everyone's a suspect!
Read our rave reviews!
5

This was such a fun idea for something different to do with your friends or family! The games a comes with a guide that tells you the order in which things should happen. Everyone had a great time and was blown away with the stories!

Corinne D.

5

I can't tell you how much I enjoy a good crime/mystery novel - the bigger the better I mean, it's disappointing for me to read a mystery with less than 400 pages. But then I got started with the Killer Mystery series/game, and I feel that now, I am not reading of other character's dilemmas and search for clues; NOW I myself am in the story! It's as if I have stepped out of the audience and stepped upon the stage amid the other actors! You must experience this for yourself!

Gary R.

5

Killer Mystery boxes are fun and they definitely keep you guessing! I found myself wrapped up in scene, excited to see what was going to unfold next!! I would definitely recommend these to any true crime fans who want to put their own detective skills to the test.

Trinity S.

5

If you love a challenge, this game is it. Get your friends and family together for a game night. You won't be disappointed. Kept us guessing and the different type of clues were fun to do. I actually felt like I was part of the story. Cannot wait to get the next season. It was a fun filled night for our family. Would highly recommend!

Linda L.

5

It was fun and very engaging, once I started I did not want to stop until I knew how it ended.

Jerry U.

5

Killer Mystery will revolutionize game night! Had friends over for food, fun and mystery madness! We were at the edge of our seats! The writing keeps you engaged. What started out as game night turned into a fun murder mystery that we will soon do again. Next game night will be a holiday theme murder mystery. 10/10 Recommend!

Denise D.